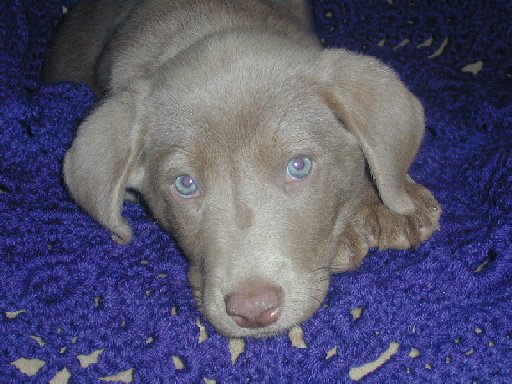 Update: 2 gorgeous silver puppies available!
They are a beautiful silver and pretty big too; fantastic temperaments and striking confirmation!
They will definitely be good sized dogs! They will be ready for their new homes on September 25th.
Email or call 716 523 8764 for more info or to place a deposit and reserve one of these cuties!
Our family took some time off to acquaint and adjust to our newest additions,
Nathan('11) and Elana('13), (2 legged babies this time!) but now we are looking forward to more litters here at Sensational Labs.

We are excited to announce the arrival of our new litter with Lacey and Titan!
Lacey is our silver female - she has a kind playful manner, easy going disposition and quite loyal.
Titan is a happy go lucky silver male, broad and outgoing, a handsome dog with an excited-love-life personality!
This is a silver litter, some good sized, exceptional pups - the pairing of their parents producing some excellent pups
eager to learn and making for great family pets! Can't wait to watch these pups grow!
The pups were born on July 31 and are ready for their new homes around September 21-25th.
Please contact us for more information if you are interested in reserving one of these pups for your home!
We are taking deposits on this litter
We Welcome inquiries or questions.
For information on how to reserve a pup here Click here.
---

Raised within our home, we raise our dogs and puppies with loving care and lots of exercise. We raise AKC chocolate, black, silver, and charcoal Labradors. Our dogs are our family and their well being is very important to us. We don't over-breed our girls, and only breed them if they are in good condition - anything more than that would compromise their health and the pups. We love the easygoing temperament of a lab and breed for that true Lab spirit! Our puppies have lots of love and attention from day one and receive socialization with adults as well as children. With the care they receive, individualized attention, socialization, great pedigrees, and love, they are our beloved Sensational Labradors!

Check out our New Litters page for a look at our latest litters! If you are looking for a great hunting dog or a child friendly pet, one of our pups would be just what you are looking for as they are quick to learn and are easy to train. Feel free to contact us with any questions or if you just want to chat "Lab!"